Die Lotosblume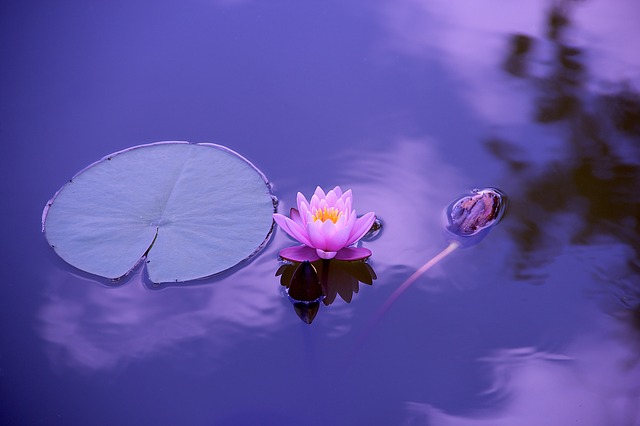 1.

Die Lotosblume Accompaniment

0:28

2.

Die Lotosblume Accompaniment + Melody

0:28
Instrument: Voice
Range: C4 - G5
Key: F Major (Orig Key)
Lyrics start: "Die Lotusblume ängstigt, Sich vor der Sonne Pracht......."
"Die Lotosblume", or "The Lotus-Flower", is a poem written by Heinrich Heine which was set to music by Robert Schumann in 1840. This Lied is part of Schumann's Myrthen collection (op. 25 no. 7)) and Six Song for Männerchor (op. 33 no. 3). The piece speaks of the blooming of a lotus flower and how it comes to life at night. The English version is by Florence Easton.
Die Lotosblume ängstigt                               The Lotus flow'r is anxious,
Sich vor der Sonne Pracht,                            fearing the sunshine bright,
Und mit gesenktem Haupte                         and with her head bowed humbly
Erwartet sie träumend die Nacht.               she blissfully awaits for the night.
Der Mond, der ist ihr Buhle,                           The moon, he is her loved one,
Er weckt sie mit seinem Licht,                      He wakes her with shining light
Und ihm entschleiert sie freundlich           and she unveils with sweet candor
Ihr frommes Blumengesicht.                        her lovely face to his sight.
Sie blüht und glüht und leuchtet,               She blooms, and glows, in rapture,
Und starret stumm in die Höh;                     and turns her face to the sky.
Sie duftet und weinet und zittert                And weeping in ecstasy, trembles
Vor Liebe und Liebesweh.                              with longing and anguish of love.
Robert Schumann (8 June 1810 – 29 July 1856) was a German composer and influential music critic. He is widely regarded as one of the greatest composers of the Romantic era. Schumann left the study of law, intending to pursue a career as a virtuoso pianist. He had been assured by his teacher Friedrich Wieck that he could become the finest pianist in Europe, but a hand injury ended this dream. Schumann then focused his musical energies on composing.
Schumann's published compositions were written exclusively for the piano until 1840; he later composed works for piano and orchestra; many Lieder (songs for voice and piano); four symphonies; an opera; and other orchestral, choral, and chamber works. Works such as Carnaval, Symphonic Studies, Kinderszenen, Kreisleriana, and the Fantasie in C are among his most famous. His writings about music appeared mostly in the Neue Zeitschrift für Musik (New Journal for Music), a Leipzig-based publication which he jointly founded.
In 1840, Schumann married Friedrich Wieck's daughter Clara, against the wishes of her father, following a long and acrimonious legal battle, which found in favor of Clara and Robert. Clara also composed music and had a considerable concert career as a pianist, the earnings from which, before her marriage, formed a substantial part of her father's fortune.
Schumann suffered from a mental disorder, first manifesting itself in 1833 as a severe melancholic depressive episode, which recurred several times alternating with phases of 'exaltation' and increasingly also delusional ideas of being poisoned or threatened with metallic items. After a suicide attempt in 1854, Schumann was admitted to a mental asylum, at his own request, in Endenich near Bonn. Diagnosed with "psychotic melancholia", Schumann died two years later in 1856 without having recovered from his mental illness.
Purchase includes:
Die Lotosblume:  Accompaniment
Die Lotosblume:  Accompaniment + Melody
You can purchase the sheet music from www.musicnotescom.